UNBEATABLE SAVINGS ON ANY TYPE OF PERSONAL VEHICLES
At GoldenTrust Insurance, we offer auto insurance coverage for ALL Florida drivers. From basic, personal and family auto coverage, to the extensive coverage needed by high net worth individuals and classic car collectors.
In addition to coverage for one or more cars, trucks or SUVs, GoldenTrust Insurance can also provide additional policies or coverage for personal vehicles like the following: Motorcycles, boats, jet skis and other watercraft, RVs, all-terrain vehicles and trailers.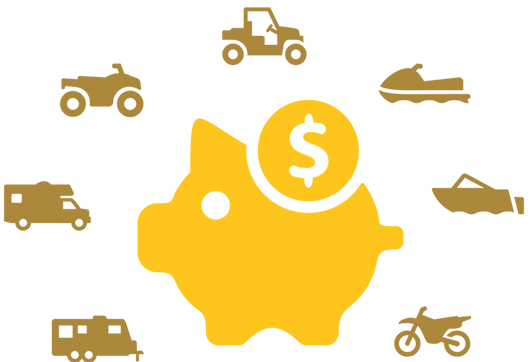 That car insurance is cheap does not mean you have to sacrifice coverage or quality. At GoldenTrust Insurance we work with the best car insurance companies, to offer you the best coverage at the lowest possible price according to your specific needs. We can help you save a lot of money on car insurance and there are no limitations such as tickets, accidents or DUI.
Getting the right coverage for your vehicle is easy with GoldenTrust Insurance – "Your Quality Insurance". You can use our instant quote that is on this page, to buy and compare auto insurance policies. We invite you to read the recommendations to compare auto insurance quotes, we want you to understand why the differences in prices for auto insurance and the different coverages. You can also send us an email or call us and one of our expert car insurance agents will assist you as you deserve, will offer you a free quote that best suits your insurance needs.
Compare and Buy Auto Insurance
If you are looking to buy auto insurance, you will have to compare quotes from several insurance companies. Make sure you compare apples to apples. Make sure you select the same type of coverage to establish the comparison correctly.
There are the coverages that are required in your State, but you may want to add other coverages that insure your vehicle. If you do this, be sure to add it to all the quotes you are comparing.
Once you have all the quotes for auto insurance with the same coverages, limits and deductibles, you can correctly compare and buy the policy that best fits your budget.
If you need more information, do not hesitate to call us and one of our auto insurance agents will offer you a free quote. Let yourself be advised by an insurance expert at GoldenTrust Insurance.
5 Types of Car Insurance Coverage Explained
When you start to consider the various types of auto insurance coverage available it can get overwhelming.
How do you know what types you need? Is it required by your state? Are there ways to save money and still have the right amount of coverage? Below we detail 5 types of coverages and provide a few scenarios where you would benefit from having a non-required coverage added to your policy along with some tips to save some money depending on your vehicle and budget.
1. Liability Insurance
Liability insurance covers you in the event you are in a covered car accident and it is determined the accident is a result of your actions. Liability insurance will cover the cost of repairing any property damaged by an accident as well as the medical bills from resulting injuries. Most states have a minimum requirement for the amount of liability insurance coverage that drivers must have. If you can afford it, however, it is usually a good idea to have liability insurance that is above your state's minimum liability coverage requirement, as it will provide extra protection in the event you are found at fault for an accident, as you are responsible for any claims that exceed your coverage's upper limit. You wouldn't want to run the risk of having to pay a large amount of money because your policy limit has been exceeded.
2. Collision Coverage
If there is a covered accident, collision coverage will pay for the repairs to your car. If your car is totaled (where the cost to repair it exceeds the value of the vehicle) in an accident, collision coverage will pay the value of your car. .
If your car is older, it may not be worth carrying collision coverage on it, depending on the value. On the other hand, if you have a more expensive car or one that is relatively new, collision insurance can help get you back to where you were before any damage to your car. Note: If you have a lienholder, this coverage is required.
3. Comprehensive Coverage
What if something happens to your car that is unrelated to a covered accident – weather damage, you hit a deer, your car is stolen – will your insurance company cover the loss? Liability insurance and collision coverage cover accidents, but not these situations. These situations are covered by Comprehensive (other than Collision) coverage.
Comprehensive coverage is one of those things that is great to have if it fits in your budget. Anti-theft and tracking devices on cars can make this coverage slightly more affordable, but carrying this type of insurance can be costly, and may not be necessary, especially if your car is easily replaceable. Note: If you have a lienholder, this coverage is required.
4. Personal Injury Protection
While Comprehensive coverage may be something you don't need to purchase, Personal Injury Protection (PIP) is something you should. The costs associated from an accident can quickly add up, and in order to cover those costs Personal Injury Protection is available. With this coverage, your medical bills along with those of your passengers will be paid, no matter who is at fault for an accident. Note: This coverage is not available in all states.
5. Uninsured /Underinsured Motorist Protection
While state laws mandate that all drivers should be insured, this is unfortunately not always the case. Another issue that can arise is that while a driver may have liability insurance, many states have relatively low minimum coverage requirements that may not be enough to cover all of the expenses of an accident. So, if someone is legally responsible for damages related to an accident, you won't receive any payment if they do not have coverage or you will receive less than you need to cover the cost of damages if your damages exceed their coverage amount. This is the type of situation where Uninsured and Underinsured Motorist Protection would help with expenses.
Saving tip: It's usually relatively inexpensive to add uninsured/underinsured motorist protection to your car insurance policy, especially considering the amount of protection it offers. 
This information in this newsletter is a summary only. It does not include all terms and conditions and exclusions of the services described. Please refer to the actual policy for complete details of coverage and exclusions. Coverage may not be available in all jurisdictions and is subject to underwriting review and approval.
Sources: www.iihs.org, www.insurance.com, www.carinsurance.com